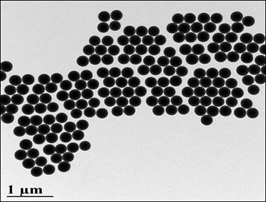 Polymethylmethacrylate (PMMA) beads are highly uniform
(coeff. var. <3%) particles ranging from 0.2μm to 0.7μm in diameter.
A large selection of precised sizes are offered, with different surface chemistry e.g. positive or negative charge. Particles are non-dyed or dyed with e.g. Rhodamine.

Besides photonic applications NanoGer's latex-beads are used as components in coating formulations or for lateral flow tests, latex agglutination tests, flow cytometry, fluorescence microscopy, and as calibration particles to name just a few applications.

All particles are offered in convenient laboratory quantities or bulk quantities for pilot scale studies. Each batch comes with a certified analysis report, which contains a full analysis in solution AND in dry.
A representative electron-microscopic or AFM-image is provided; see here.